Et'hem Bey Mosque and the Clock Tower in Tirana
Et'hem Bey Mosque
A few steps from the Skanderbeg Monument, the Et'hem Bey Mosque (Xhamia e Haxhi Et'hem Beut in Albanian), called by the capital inhabitants simply Tirana Mosque.
Built-in 1821 by Haxhi Et'hem Bey, the mosque represents one of the most important and best-preserved Islamic buildings in the country and forms, in harmony with the nearby Clock Tower (Kulla and Sahatit in Albanian), a monumental complex of great historical value for the city.
The construction of the building was begun in 1794 by Mulla Bey and finished in 1821 by her son, Haxhi Et'hem Bey, from whom it took its name; it is undoubtedly a splendid example of Ottoman architecture and recalls other similar structures in the Western Balkans, typical of cities like Skopje and Sarajevo.
During the Italian occupation, the mosque was preserved and inserted in the new urban fabric to the testimony of the city's Ottoman past. Even in the years of communism, although closed to worship, it was protected as a national monument and therefore preserved from the destruction conducted during the anti-religious campaigns of the '60s and '70s.
The mosque is distinguished by the unique style of the tower and dome, and more generally by the harmony and proportion of its facade, decorated in part by beautiful frescoes that also adorn the building's interior walls and depict floral motifs, unusual landscapes, and views of Istanbul. You can visit it during opening hours, care to avoid moments of prayer, and leave your shoes at the entrance.
Clock Tower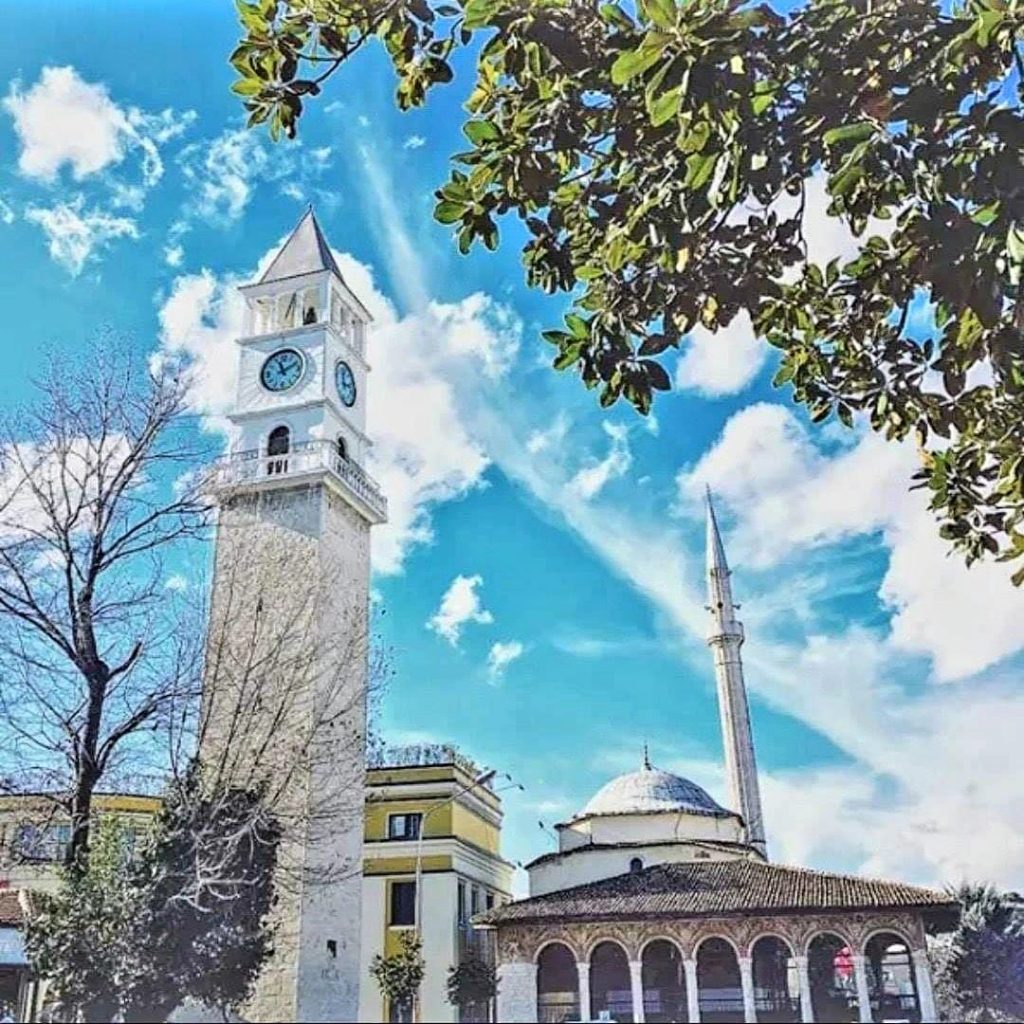 Next to the mosque is the Clock Tower, another symbol of the city and emblem of the Ottoman era, built-in 1822 also by Haxhi Et'hem Bey with the help of the wealthiest families of Tirana. The tower, which with its 35 meters high, was for a long time the tallest building in the city, is now dominated by the modern buildings that surround it but continues to characterize with its profile the landscape of Skanderbeg Square.
In its more than 190 years of history, the Clock Tower signaled the time to the inhabitants of Tirana first with a Venetian-made bell, then with a German-made clock (destroyed in World War II and replaced with one from a church in Shkodra), and finally in 1970 with a Chinese clock, emblem of the alliance with the Maoist government.