Traveling With Children: A Comprehensive Guide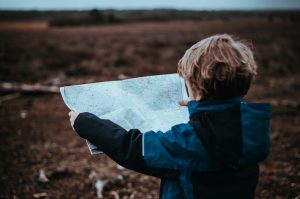 Remember the time when you couldn't sleep on your flight back home because of the cranky baby sitting right next to you. You rolled your eyes at the struggling parents who were continually trying to calm their baby down while silently remarking how your baby will be the quietest on-board. Turns out that the bubble of your wishful thinking has burst. And now you struggle with your kids both onboard and in a foreign country, trying hard to ensure that your vacations don't turn into a stressful trip.
You are not alone in this. And we're here to help! In this article, you will find some helpful tips that will make your travel easy and fun.
Tips for Traveling with Children
Choosing an Accommodation
Gone are your singleton days when you used to book a tiny room in a hostel with a shared bathroom. Now, when you are traveling with your family, you have to invest in accommodations as well. The hotel vs house debate is age-old. Ever since sites such as Airbnb made their debut,   many people consider renting an apartment for their brief trip. When with kids, it is better to stay in a furnished apartment that offers a working kitchen so that you can cook something for your picky kids.
Direct or Not
A cheap flight with a layover is what attracts budget travelers who want to save as much as they can on their trip. With kids, however, even a one-hour layover can be stressful. You have to change gates, take care of luggage, and ensure that everybody has made at least one trip to the loo. All of this could be stressful. So, when it comes to choosing between comfort and savings, we recommend you go with the former.
Planning Your Days
With children, less is more. And while it is tempting to cover every corner of a foreign land, it is not a good idea to exhaust your children to no end. Instead of planning full-day activities, plan some for a half-day, and schedule the rest of the day for relaxing. This will keep your children active and full of energy.
Keep Your Kids Busy
Kids of every age require special attention. If you're traveling with infants or toddlers, you will realize that dealing with them is a little bit easy. But as they grow, they start giving you a hard time. Make sure that you have activities planned that keep your kids busy. For toddlers, make sure that you take their favorite, portable toy with you so that you can distract them, if possible.
Be Prepared
Take all safety precautions when you travel with kids, keeping children's medicines for allergic reactions and stomach aches, etc. Also, don't leave your house without packing a first-aid box, so that you can easily deal with an allergic reaction or a stomach bug or a scrape during the trip.
The Final Word
Yes, traveling with children seems like a challenging task; however, with proper and timely planning, you can have an exciting and stress-free trip.