What's it Like to Travel in Albania?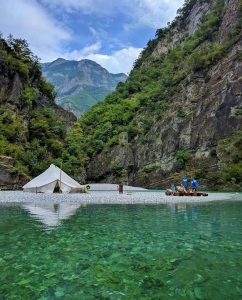 If you are dreaming of exploring a place with a fascinating culture and spellbinding beauty, Albania is the right country for you. For a long period of time, travelers avoided traveling to the country mostly because of its communist regime. However, Albania today is more welcoming and takes pride in hosting a large number of tourists from all corners of the world.
If this is your first time visiting the country and you really want to know what it's like to travel there, this guide is just for you. Known as one of the world's most beautiful countries, Albania has a lot to offer to travelers.
Here are some things that you need to know before you travel to this stunningly magnificent place.
The Essential Albania Travel Guide
Before visiting Albania, you may have a barrage of questions in your mind. Can you ask a local for directions or assistance? Is it safe to travel solo there? What are some of the must-visit sites there? If you have constantly been pondering these questions, you must read this section to learn more about the country.
A Few Words About Albania
Albania is a Muslim-majority country – 59% of Albanians are Muslims. In addition, 20% of the population is Christian. The rest of the Albanians are atheists. Albania is based on the principles of the separation of religion and state. So, you won't find locals following a specific dress code.
Friendly Locals
It is no secret that Albania remained secluded from the world for many decades. It was in the 1990s when the Albanian communist regime had its fall. After that, the country began welcoming visitors. Albania is one of the few countries where you will meet the friendliest locals. They will be happy to help you in whatever way they can. This hospitality is not limited to cities. From small towns to big cities, locals will welcome you wholeheartedly. In case you are lost and have a hard time finding a restaurant or your hotel, don't hesitate to ask for assistance.
A Safe Country
The crime rate in Albania is very low. This makes the country one of the safest places to travel to. It is also perfectly safe for female solo travelers. As mentioned above, the locals are friendly and they will go at any length to help you.
An Affordable Country
Going on a holiday trip anywhere in Europe usually means exhausting your savings. At a four-star hotel in Albania, you can get a double room for $62 per night. Tirana, the capital city of the country, is a bit expensive. However, it is more affordable than other European cities. A meal at a fancy restaurant in Tirana will cost you around $19-25.
When it comes to recreational places, parks are mostly free. Museums have an entrance fee, but that too is not more than $6.
The Local Currency
Although hotels accept euro, the local shopping stores only accept the Albanian currency (lek). Most of the shops don't accept credit cards and have a cash-only policy. So, do carry cash with you when you are out shopping in this beautiful country.
The Local Language
The Albanian language is nothing like what you'd find in many European countries and is completely unrelated to any other European languages that have mostly originated from Latin, Greek, or Slavic. The Albanian language is unique. The Albanians are also proud of their language and appreciate people who use Albanian phrases. They will be happy if you learn a few basic Albanian words, such as mirupafshim (goodbye), mirë (it's ok), faleminderit (thankyou), naten e mirë (goodnight), përshëndetje (hello), etc.
Albanian Food
The extra weight that you shed before traveling will come back as soon as you start tasting Albanian cuisine. The food in Albania is divine. The food items that you shouldn't miss at all are fegese, tave kosi, byrek, and speca me gjize. People who love sweet dishes will instantly fall in love with Trilece and Baklava. Your trip to Albania will be incomplete unless you try these delicious foods.
In fact, when it comes to drinks, nothing can match the awesomeness of Albanian flavors. Raki is an aromatic liquor and has an incredible taste. Don't forget to try this drink when in Albania.
Pristine Beaches
Albania is home to some of the most beautiful beaches in the entire world. These fine beaches are the perfect places to spend some quality time. Almost all the beaches in the country are stunning. This is why you'll find most of these beaches overcrowded. Almost every tourist visits these beaches to witness the spellbinding beauty of the country.
Sparsely Populated Country
Albania is a small country. The total population of the country is around 3 million. In fact, you will find more Albanians in other European countries than in the country itself. For example, the total number of Albanians living in Macedonia, Kosovo, Montenegro, Italy, and Greece is around 10 million.
A Tolerant Country
Albania is a secular country. It is a religiously tolerant country and people of all religions feel welcomed and safe in this small country. Throughout the country, you will find mosques, Orthodox churches, and Catholic churches in proximity to each other.
Picturesque Towns and Cities
When it comes to beauty, Albania has no match. Even the small towns of the country look straight out of a fairytale. Spending some time in these places is like a dream come true. When planning your trip, don't spend all your days in the city center only. In fact, do plan on taking trips to nearby towns.
The Final Word
Albania is a safe, peaceful, tolerant, and extremely beautiful country. It is the perfect holiday destination for those on a budget. The country has something to offer to everyone. If you are a nature lover, the country has crystal-blue beaches where you can go. For history and art lovers, the country has a variety of museums. For foodies, the Albanian food is unmatchable. For adventure lovers, the country has many hiking trails where these people can have a great time. Now, stop looking at other options and book your tickets to Albania right now.