Night Activities in Albania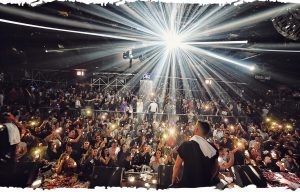 Do you know that when you travel, the popular Wee Willie Winkie doesn't come tapping at your hotel room's window? You're allowed to party hard and have sleepless nights. When in Albania, you have plenty of options for night activities to rock your nights. In this article, we'll have a look at some of the best places that you must visit during your trip.
A vibrant and exciting nightlife is what attracts travelers to a particular place. When it comes to night activities, Albania doesn't disappoint. From cocktail bars and nightclubs to exotic restaurants, the place will leave you surprised and high on fin!
Night Activities in Albania
Folie Marine
Twenty kilometers from Tirana, there lies one of the cleanest beaches of the Jamaican Sea. Referred to as Folie Marine, a spot is an ideal place for a nighttime party. The restaurants by the beach offer spectacular views, making your eating experience even richer!
Hemingway Tirana
If you are in the mood for live jazz, then visiting the Hemingway Tirana is a must. This rich place also has a movie-screen on the wall to offer you maximum entertainment. It is a perfect place for a night out with friends or family. Visitors applaud the place for having the best staff. So, be ready for a royal treatment at this fun place.
Salt Rest
Another popular place in Tirana is SALT. This beautiful place offers a great ambiance to its visitors and delicious food. On the open terrace of its second floor, the restaurant has a cocktail bar.
Checkpoint Charlie
Are you into rock-pop? Then head straight to Checkpoint Charlie for a night full of fun. Located in the middle of Blloku, the place is heaven for crowds who love rock music. Even for the best dance music in town, this place is the best. When in Tirana, don't miss out on the fun that this nightclub has to offer.
Discobox
While researching Albania, you might hear about the Academy of Arts – a must-visit place built inside an Italian-era palace. At night, after 2 am, the otherwise quiet place gets a wild makeover and turns into a wild nightclub every single weekend. This thriving place is one of the best nightclubs. Don't forget to pay a visit to the place and party hard.
Mumja Club Terrace
One of Tirana's most overcrowded places, the Mumja Club Terrace, is a good place for music lovers. The DJ plays three nights a week, so make sure that the night you're visiting the place is the DJ night. Previously, the place was located inside the city's old Pyramid of Tirana – the mausoleum dedicated to Enver Hoxha -, and is now located near the Millenium cinema.
The Final Word
The first rule of traveling is to prepare and stick to an itinerary. This lets you cover almost all the cool places the country/city has to offer. This article lists some of the best places that will offer Albania's best nightlife.