Ferries to Albania from Italy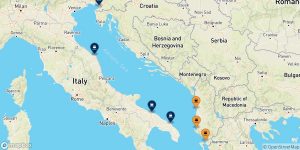 The proximity between the Italian and Albanian coasts ensures that ferries to and from Albania are fast and in high demand. You can choose to travel using the services of Ventouris Ferries and Adria Ferries, without forgetting European Ferries and Grandi Navi Veloci. These are very established companies that work with modern ferries to achieve good sailing speeds in maximum safety.
Choosing the ferry to spend your holidays in Albania has numerous advantages, among which we find:
– The multiple onboard services allow passengers of all ages to entertain themselves while waiting to arrive at their destination. These include the famous duty-free shops where you can shop, restaurants, bars, play areas for the little ones, cinemas;
– The different types of environments available to passengers, divided between comfortable armchairs and private cabins for exclusive use, for anyone who wants to spend the trip in peace without giving up all the comforts;
– The possibility of embarking cars or motorbikes to allow travelers to move independently once they are right at their destination, but also campers, caravans, or tent trolleys, generally used by campers.
By comparing the services and rates of the various companies, it will be possible to identify the best ferry, tailored to their needs. This means not only being able to choose a great price, but also the time you prefer most for your departure and return. Everything can be done conveniently online through Traghetti. It indicates all the possible alternatives for the set time frame.
Albania: ports of departure and arrival of ferries
The ports that allow you to reach Albania from Italy are four: Trieste, for those coming from the north; Ancona, for the center; Bari and Brindisi, for those who live in the south.
Therefore, choosing the closest place is convenient based on your location on the national territory. The most used port of arrival is that of Durres, located near the capital Tirana. Still, alternatively, you can also opt for Vlora, a place also highly appreciated by tourists.
Many companies offer the opportunity to travel even during the night, to take away as little time as possible from the actual holiday. Once you arrive in Albanian land, you will only have to go and discover all the beauties of a country that for too long has been underestimated in tourism.